The Ballet program features the following:
Classical stage discipline for ages 4 to adult
Uses nationally recognized syllabus for standardized advancement between levels
Examination opportunities available
Includes barre work, Centre practice and adage, depending on the student's age and level
Annual recital to demonstrate what the student has learned
Ballet training at Move With Grace incorporates the core fundamentals of all classical dance styles. Our approach is a whole learning experience aimed at not only improving dance skills but also the overall education of the student.
Our method addresses all three learning styles: Kinaesthetic, Visual and Audio. Younger grades are taught with a variety of appropriate learning aids such as positional colouring pages, rhyming and movement games, which teach theory and terminology in an entertaining way. Older students learn in a similar manner using the Dancer's Anatomical Colouring Book and age appropriate games and exercises.
Students from our programs have gone on to train and perform at Quinte Ballet, The National Ballet of Canada, Royal Winnipeg Ballet &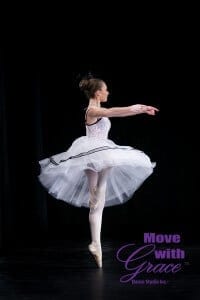 American University Ballet in New York
Ballet Helps Your Child:
Develop grace, poise and coordination
Improve performance in any other activity requiring balance and control
Increase focus, attention to detail and discipline
Achieve better school grades and an improved work ethic
Grow as a serious dancer