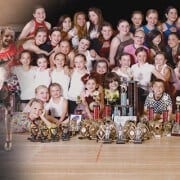 A Fun Place to Learn
The Competitive Dance program features the following:
Ideal for the student who wants a committed, more intense dance regime
Higher calibre of performance required
Competitive technique classes based on the student's ability to progress
Teams travel to competitions (typically 5 per year)
Performances are judged by a panel of professional adjudicators
Several recent dancers have proceeded to Canadian National Teams
The Competitive Dance program at Move With Grace is the first step towards a career in professional dance. Because most competitive students are in training for more than five hours per week, they learn prioritization and time management skills. A contract is used to reinforce each student's commitment to the team.
Even though our competitive students have a heavier workload, the majority maintain a high average at school. Our approach is a whole learning experience aimed at not only improving dance skills but also the overall education of the student.
The Competitive Dance Program Helps Your Child:
Prepare for a professional dance career
Get accepted into University dance programs
Develop superior time management and prioritization skills
Learn how to set and achieve goals
Build exceptional teamwork skills