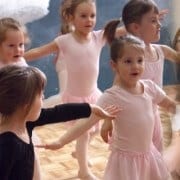 Dance classes for ages 2.5-4 years!
Does your daughter love to twirl, play, hop, make-believe and dress-up ?
Then she will love becoming a Princess Ballerina in our Kiddazzle program!
Each week she'll hop, skip and twirl through an imaginary adventure!
By encouraging your child's creativity and independence in a fun and supportive atmosphere you'll see your child blossom before your eyes!
Why Choose Kiddazzle?
Class Times To Fit Your Schedule: Classes available weekdays as well as Saturday mornings.
Unlimited Make-Up Classes: Flexible around illnesses & vacations.
Caring Instructors who can't WAIT to share their love for dance with your little one!
Imaginative themed classes. New theme every 10-weeks!
Parent performance at the end of each session.
Family-Friendly Environment Comfy lobby, wi-fi, & viewing monitors & so parents can watch the fun!
All-Inclusive Tuition: No other expenses outside of your session fee ever!
Bonus For YOU! We offer FREE classes for our studio moms. Subject to change & availability.
Imagine your child dashing out of class excited to share what she learned that day and show off her hard-earned sticker!

Then, watch your daughter beam with pride as she performs for you during Parent Performance Week!
Program Structure & Fees
Our Program is based around 10-week sessions that incorporate a new theme, music, new skills and a different performance routine each session.
Week 10 of each session is "Parent Performance Week" where parents are invited into the classroom for a full demonstration of everything we've learned over the session. Costumes for Parent Performance Week are supplied on a "dress-up" basis so there is nothing extra to purchase. Additionally, each child will receive an Award Certificate to reward and celebrate her achievement.
Fees are $150 per 10-week session.
We offer unlimited make-up classes within each session to allow flexibility around vacations and illnesses.
New this year we are offering FREE dance/fitness classes for our fabulous studio moms! Ask about our current class schedule. Parent enrollment is based on class availability.
What Happens In A Kiddazzle Dance Class?
Each class begins by warming up our muscles, stretching and reviewing our ballet foot & arm positions during a circle warm-up.
We practice our Princess Ballerinas dance moves (and review their fancy french names) like relevé, plié, and jeté.
We travel to magical lands and pretend to be things like beautiful flowers, fairies, birds, bees, and butterflies. Each session is based on a magical theme like Fairy Garden Adventure or Winter Wonderland, or teddy bear's picnic.
We practice our Kiddazzle dance routine that we can't WAIT to perform for you in class at the end of each session in a fancy costume (dress up-only).
Each class ends with your child getting a sticker to reward and celebrate her progress and success!
Book a Trial Class
Refund/Trial Policy for new students: New students must register for the session but if you feel the class isn't a good fit for your child, you have through the second week in the session to request a refund for the remaining classes.
Questions? Email Us!
Kiddazzle™ Helps Your Child:
Improve coordination
Cultivate listening skills and attentiveness
Build social skills
Accept instruction
Develop self-confidence and self-esteem