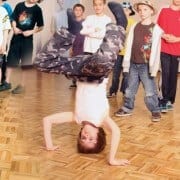 The Hip Hop program features the following:
Includes many elements of street-styled hip hop (popping, locking, krumping,  b-boying etc.)
Age appropriate music, costumes and choreography
Boys only program for younger children and specialized diva style Jazz Funk hip hop classes
Changing styles to match new pop culture trends
Group formations used to maximize the effects of some routines
Hip Hop training at Move With Grace brings the "coolness factor" of street dance to students of all ages, from child to adult.  Hip Hop is a good option for children starting dance at a later age and is perfect for youth who may not have been interested in dance before. Our approach is a whole learning experience aimed at not only improving dance skills but also the overall education of the student.
The Hip Hop program builds on the popularity of TV shows like So You Think You Can Dance and makes dance accessible in an entertaining way..
Hip Hop Helps Your Child:
Develop self confidence
Boost aerobic fitness
Enhance both upper and lower body strength
Improve balance and control
Increase focus, attention to detail and discipline