Move With Grace Dance Studios Cambridge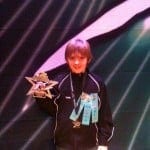 Our talented Kids are doing great in the second day of competition in Richmond Hill!
Here are the updates:
"Respect"  1st Place
Hailey Crawford tap Solo 2nd Place
Ashley Ehrlick tap solo 1st Place
Hey baby. 1st Place &  3rd Overall Pre Comp Groups.
Derek Tedesco Musical Theatre Solo 1st Place and 2nd Overall for Pre comp solos,  Juliana Cipric 1st Place and 3rd Overall for Pre comp solos Comp ballet Group. 1st Place