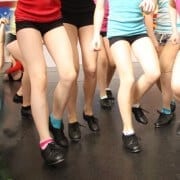 A Fun Place to Learn
The Tap program features the following:
Strong emphasis on timing and rhythm
Participants literally make music with their feet
Combines traditional rhythmic combinations with more modern creative methods
Excellent complement to any other dance training
Examination opportunities available
Annual recital to demonstrate what the student has learned
Tap training at Move With Grace is an excellent way to learn musical awareness and an understanding of the creative process. The rhythmic footwork in a tap routine uses tone, shading and clarity of sound to achieve the desired song, either accompanied by other music or acapella.
Our approach is a whole learning experience aimed at not only improving dance skills but also the overall education of the student. Our method addresses all three learning styles: Kinaesthetic, Visual and Audio. The Tap program uses a variety of learning aids to teach an age-appropriate syllabus in an entertaining way. We also provide a written description of every routine to allow the student to practice outside of class time.
Tap Helps Your Child:
Develop lower body strength
Learn musical timing
Understand eurhythmics, the art of interpreting rhythm through bodily movements
Improve balance and control
Increase focus, attention to detail and discipline