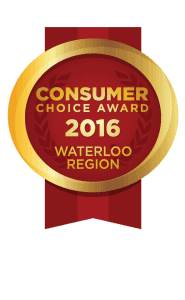 Move With Grace dance studios believes in helping kids reach their full potential through dance.  We build confidence in kids through the performing arts in a fun family environment leaving them with a sense of belonging, purpose and pride.  Watching your child shine with joy while learning dance is as rewarding for you as it is for them.
Our studios are named the best dance school not only in the city of Cambridge, but also in the region!  We can confidently boast this as the winners of the 2016 Consumers Choice Awards for Waterloo Region- Best Dance Studio.  The Cambridge Times Readers Choice Awards have also awarded Move With Grace dance studios the 1st Place Diamond Award - Best Dance School for 11 years since our formation back in 2004.  It is not only our exceptional qualified adult instructors that have set us apart from the other providers in the area, it is also our approach.  We use positive motivational techniques to motivate students so they want to be in the classroom, and love the process!  Whether your child dances Ballet or Jazz, Tap or Acrobatics, or perhaps they are lyrical Contemporary dancer we incorporate the same great strategies.  Even in our Hip Hop and Jazz Funk programs as well as Musical Theatre, a proven method of strong instruction imparted in a fun and rewarding way will bring out the confidence in your student.
Move With Grace also specializes in early years programs with our Kiddazzle dance readiness program for 2 1/2 year olds or our Tot Combo classes geared for active 4-5 year olds.  Recognizing the developmental stages your child is going through at these ages makes our programs special.
Our programs are versatile dependant on your goals.  The majority of our students enjoy our recreational programs geared at learning the progressive syllabus, combinations and annual recital performance for the disciplines of their choice.  We do however have various performance opportunities at parades, fairs, festivals an by invitation of the Hamilton Tiger Cats Annually.  Our Part Time "Pre-competitive" program allows a gentle introduction to students desiring a more dance sport minded program.  Our full competitive program is available for very serious dancers and our team does very well abroad at 5 dance challenges per year.  We also have developed an "International Team" which will be traveling to Spain to represent Canada in 3 cultural festivals this coming July 2017.  Opportunities abound!
We are pleased to share our amazing faculty of dance teachers across three centres now.  With studios in Cambridge, Fergus - Elora and Woodstock Ontario, we are a convenient drive servicing the regions of Waterloo and Oxford county.