When choosing a dance school for your child you want to be sure the investment in time and money will result in some pretty basic things.
You want an activity that creates:
Happy, healthy kids
a good physical activity for children
improved mental focus in students
fun learning of collaboration skills
improved coordination, and poise
strategies for overcoming fear & obstacles
life long friendships
We've been helping to create confident, strong successful kids since our founding in 2004. We are the leading dance studio in Cambridge, Ontario and in Waterloo region. Our dance instruction has been recognized by multiple organizations for many years as the best dance school in the area.
Whether it is toddler dance lessons, ballet classes for children 5-18 years of age or elite competitive dance, Move With Grace Dance Studio is the industry leader.
Award Winning Dance School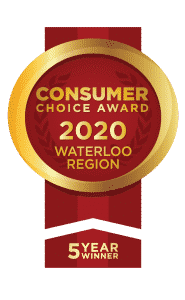 Our dance studios are named the best dance school not only in the city of Cambridge, but also in the Region of Waterloo for a third year! read about 2016 award , 2017-2018 award.
We can confidently boast this as the winners of the 2016 & 2017 Consumers Choice Awards for Waterloo Region in the category of - Best Dance Studio.
"The Consumers' Choice Award is unique in that winners are not chosen by a panel of judges but by consumers themselves. Recipients of the CCA represent "Best in Class Businesses" in the quality of their service, value, professionalism and integrity. Identified winners ..."
The Cambridge Times Readers Choice Awards have also awarded Move With Grace Dance Studios the 1st Place Diamond Award - Best Dance School for 13 years since our formation back in 2004. This is voted on by Cambridge Times readers and selected by the community, which is very humbling and we thank you!
We have also been recognized by Three Best Rated - Best Business of 2017.
Why is Move With Grace Recognized as the Leader in Quality Dance and Performing Arts Education?
Because we build confidence in kids through dance and the performing arts in a fun family environment giving them a sense of belonging purpose and pride!
We do it in a unique way - we treat the students with positivity & respect. Our faculty are the best in the area, highly qualified to teach and wonderful with kids.
Our faculty are exceptional dance teachers, recognized leaders in the industry. Miss Robyn was asked to be the Canadian Judge in the 2017 Commonwealth Cup of Dance in Sun City South Africa this year. She is a IDO Choreographer.
Move With Grace is a Team Canada Tap training facility for 2017 as well under the direction of Mr. Matthew Clark.
Move With Grace provides dance classes for children ages 2 to 18 in Cambridge, Ontario. Because our studios are located in a regional area we have many clients from Kitchener, Waterloo, Guelph, Puslinch, and Wellington counties as well as the Region of Waterloo.
Come and try our ballet classes for kids or beginner jazz, or perhaps even an old school Hip Hop lesson or spicy Jazz Funk class! We offer many quality and fun programs including Triple threat (acting singing and dancing) or Contemporary dance and Lyrical! We've been voted the best dance studio by more than three separate organizations, we won't let you down :)